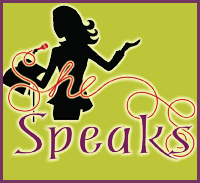 The
She Speaks Conference
is here again. Have you ever had a calling to write or speak the message God has given you? Would you like to develop those abilities to be able to minister to women in the best way possible? Then, this conference is for you. It is open to all speakers, writers, bloggers, and Women Ministry leaders, and
Lysa TerKeurst
of
Proverbs 31 Ministries
is giving away a few scholarships to attend.
I would love to be a recipient. I believe God has called me to minister to teenagers. That's one of the reasons I write book reviews. As a teenager, I didn't make the best choices in regards to the books I read and the movies I watched. As an adult, the ungodly messages I received through the media affected my marriage and my relationship with God. I believed a lot of lies, but God intervened. Now, I want to share my experiences.
If you would like to enter to win one of the
Cecil Murphy
scholarships to attend as well, then visit
Lysa TerKeurst's blog.